Leading-Edge Solutions
for Optimal Performance
The McCoy Global team is committed to providing innovative solutions that enable our customers' success, delivering optimal operational efficiency and performance while keeping people, assets and the environment safe.
INTELLIGENT PRODUCTIVITY SOLUTIONS THAT
MAXIMIZE WELL SAFETY AND OPERATIONAL EFFICIENCY
Global energy companies seek lean solutions to complex problems that will enhance the safety, competitiveness and profitability of their operations. At McCoy Global, our people are charting the future of an increasingly automated and data-driven business sector.
OVER 100 YEARS OF INNOVATIVE SOLUTIONS
We've been known as innovative thinkers and problem solvers for over a century. That's why customers in more than 50 countries trust McCoy Global to deliver reliable, high-performance drilling and completion equipment, top-notch engineering support and responsive service.
SMART TECHNOLOGY GIVES YOU A COMPETITIVE EDGE
By closely listening to and partnering with our customers, we provide exceptional value by creating customizable Smart technology solutions. Our commitment to data-driven innovation provides a competitive edge for our customers by maximizing efficiency, reducing costs, improving safety and enhancing wellbore integrity.
INTEGRATED, SCALABLE, COST-EFFECTIVE SMART SOLUTIONS
The McCoy team takes pride in combining our mechanical, sensor, software and application expertise to achieve integrated, scalable and cost-effective Smart technology solutions unmatched in the industry.
McCoy Global – Intelligent productivity solutions.
Innovation and Performance Are Always At The Forefront
Over a century ago, blacksmith Henry McCoy established the Edmonton Auto Spring Works in Edmonton, Alberta, Canada. Back in 1914, the name McCoy meant a commitment to quality; and that, along with a desire to continually innovate, is what we stand for today.
KEEPING AHEAD OF THE CURVE
Always ahead of the curve, we've evolved through auto springs, axle manufacturing, trucking and trailers, to hydraulic power tongs, advanced engineering for wellbore integrity, data acquisition for harsh environments, and cloud-based automated Smart technology solutions. Our evolution has been relentless – just the way we love it.
LEADING CHANGE
All along the way we have aggressively embraced change to support our customers at every turn, anticipating their needs and delivering highly customized solutions. It is no surprise that our company today bears little resemblance to the blacksmith shop of 1914.
AN UNWAVERING FOCUS
Yet it is also no surprise that our spirit remains fundamentally unchanged: our focus on quality and customization ensures the products and services we provide live up to our promises, so you can live up to yours.
A true team is not just a group of people. Great teams adapt and respond in the moment. Great teams always have each other's back and bring what they do well to the game. The key ingredients to the success of the 1-McCoy Team lie in our core values, how we show up with each other, with everyone we come into contact with.
RESPECT
We are not all the same and great teams understand this and recognize and respect the skills, personality, backgrounds and experience each team member brings.
ACCOUNTABILITY
Winning teams are disciplined and each person holds themselves and each other accountable to execute on their part of the plan.
AGILITY
Great teams are those that are not only well prepared for what lies ahead, but have the ability to change plans when something comes at you that you didn't anticipate.
INTEGRITY
Being a teammate that "shows up" and is willing to be accountable for her or his actions, and who is respected by not only teammates but all stakeholders is the key to our deepest held value, Integrity. An individual achievement is wonderful, but the experience and feeling of celebrating a win as a team or an organization, is what drives the 1-McCoy Team!
MCB does not just stand for our stock market ticker, it also stands for the McCoy Behaviours! Our MCB's are our core values in action, specific ways that we live and breathe Integrity, Accountability, Respect and Agility. This is how we treat each other, and anyone who comes into contact with us here at McCoy Global.
A CLEAR FOCUS ON VISION AND VALUES
Running as a common thread throughout the organization, our six MCBs apply to all employees. They guide our thinking in both large-scale strategy and day-to-day operations. We understand that knowing who you are, what you're here to do, and what you stand for is integral to being a successful, thriving organization. By getting clear on our vision and values they act as our Northern Star to ensure we are always on course.
OUR 6 MCBs
We act like owners, and own our actions
We embrace challenge and lead change
We evolve, adapt, and celebrate our success
We approach all interactions positively,
courageously, and honestly
We have each other's backs
We are the best in everything we do
Business Code of Conduct
The McCoy Global Business Code Of Conduct is a series of informational topics that outline the details of our business approach to a number of different subject areas, from employment practices to media relations. Please check out the full list below.
McCoy Global Is Safety-First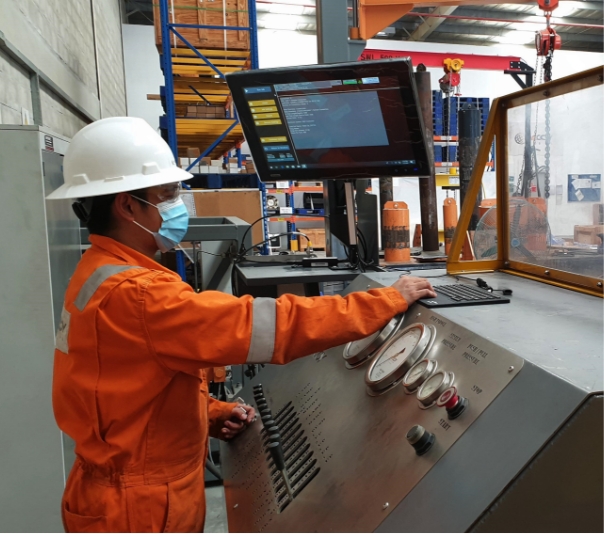 Safety is in McCoy's DNA and we are focused on having a safety-first mentality in all aspects of our business.
WELLNESS IS ESSENTIAL
The wellness of our employees, our customers and our communities is an essential part of our existence. It is just as important to live our values on the outside, as it is within our organization.
STRONG SAFETY PRACTICES
We are committed to building products that keep our customers' employees safe, we're committed to driving internal practices that enhance the lives of our employees at home as well as at work, and we're committed to supporting the communities in the McCoy Global footprint.
TRAINING, EQUIPMENT, PROCEDURES
Our Leadership Team and dedicated employees share accountability for our health, safety and environmental ethos by supporting the necessary training, equipment and procedures needed to ensure the health and safety of all employees and visitors at our worksites.
SAFETY COMPLIANCE
Our Leadership Team is also committed to complying with or exceeding all federal, provincial/state OH&S or OSHA legislative requirements that relate to our worksites for the protection of our people, equipment, materials and the environment.
Latest News
Aug
22
Rivemont MicroCap Event – September 2023
Aug 22,2023
– Rivemont MicroCap events are the perfect opportunity to improve your investment knowledge, discover new investment opportunities in the Canadian microcap sector and…