4th Annual Data Driven Drilling & Production Conference
McCoy Global representatives will be attending The World's Largest Data Driven Oil & Gas Conference in Houston, TX from May 30-31, 2018 – Where Silicon Valley and Oil and Gas Meet
A 2 Day Agenda Packed with the Latest Case Studies, Technologies and Industry Analysis
It's clear that if oil & gas companies want to grow market share and be competitive, they need to understand and implement data driven production methods…and fast.
At DDDP 2018, over 70 of the world's leading data driven experts will share insights and solutions to drive the digital revolution in oil and gas. Whether you're looking to hear from leading operating companies, innovative tech start ups, global tech giants or household oil and gas service companies, DDDP has it all.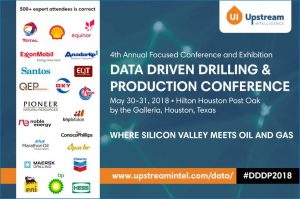 Minimise Downtime, Enhance Safety and Deliver Digital Transformation
Data collection, management and integration
Hear from the leaders in data management and how they are driving efficiency gains across operational units by improving data availability, utility and visualization
Data analytics and predictive maintenance
Wield new automated and integrated systems to dramatically reduce downtime and OPEX at scale
E&P automation and control systems
Witness real time support technology, measurement and downhole edge capability innovation to improve well placement accuracy and minimize personnel exposure
Change management
Refine your operating model, optimize your business processes and learn about the latest enhancements to the human machine interface
Data driven drilling optimization
For the first time, Upstream Intelligence is collaborating with SPE's DSATS (Drilling Systems Automation Technical Section) to deliver a day-long session on drilling automation, robotics, technology and much more!
4th Annual Data Driven Drilling & Production Conference Website