DWCRT™ Casing Running Tool
The most versatile CRT on the market
McCoy's DWCRT represents a new family of casing running tools. These mechanically operated tools are both simple to operate and simple to maintain. The DWCRT was developed to make-up, rotate, reciprocate, fill, take flow-back, circulate and drill while running casing with a top drive. The DWCRT is designed to pick up, screw and torque the casing up to the string and run the string into the well while enabling rotating, reciprocating and circulating operations to be conducted on-the-fly. The DWCRT reduces the tools and men needed to run casing compared to conventional techniques. The DWCRT allows the operator to reciprocate, rotate, and circulate simultaneously to help improve efficiency when running casing.
The built-in compensator allows casing travel during thread make-up. The tool's locking mechanism allows it to be set and released with minimal torque and eliminates the need for any top drive set-down weight. One actuator head is used for 4-1/2"-20" casing with some configurations having as few as 50 parts. The modular design provides maximum versatility while keeping both operating cost and inventory low. These key features make the DWCRT the most versatile CRT on the market.
FEATURES
BENEFITS

Modular Design
Same Head Assembly used for different casing sizes
results in fewer tools purchased for your fleet
Built-in Compensator
Thread compensated during make-up
No set-down weight to activate slips
Large Casing Weight Range
Large Casing Weight Range
Large Gripping Area
Higher load rating
Less casing damage
Easy "Unset" Feature
Allows tool to be released without breaking
top drive connection
Locking Mechanism
High casing make-up torque
Low slip break-out torque
Mechanical Actuation
No hydraulics or air needed to operate
Generated by wpDataTables
Basic Operation of the DWCRT
The DWCRT has two positions: Locked and Unlocked.
Locked Position (There is white showing below the indicator).
When the tool is in the Locked Position it can be rotated to the left or the right. The slips will not extend or retract when the tool is in the locked position.
Unlocked Position (There is no white below the indicator, the Indicator should be kept in the yellow area) When the tool is in the unlocked position, the slips can be extended or retracted. By rotating to the right in the unlocked position, the slips will extend to grip the pipe. When rotating to the left in the unlocked position the slips will retract to release the pipe.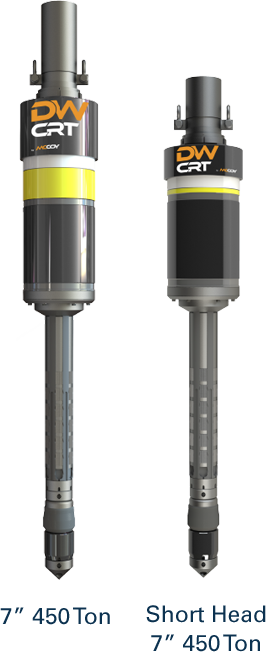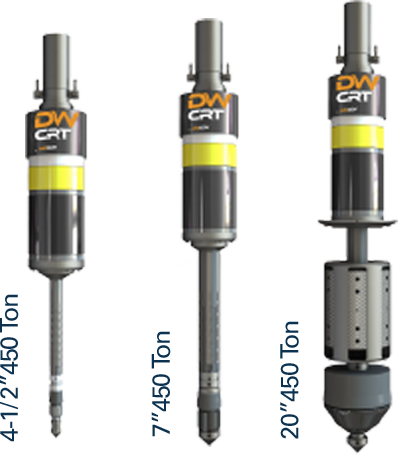 DWCRT 450T TOOL
| CASING | WEIGHT RANGE | TONS | FT-LBS |
| --- | --- | --- | --- |
| 4-1/2" | 9.5 - 15.1 # | 140 | 13,000 |
| 5" | 18 - 23.2 # | 160 | 15,000 |
| 5-1/2" | 15.5 - 26.8 # | 225 | 25,000 |
| 5-1/2" | 15.5 - 23 # | 255 | 25,000 |
| 5-1/2" | 20 - 23 # | 300 | 30,000 |
| 6" | 20 - 24.5 # | 430 | 30,000 |
| 6-5/8" | 20 - 36.7 # | 370 | 50,000 |
| 7" | 17 - 35 # | 450 | 65,000 |
| 7-5/8" | 24 - 42.8 # | 450 | 65,000 |
| 8-5/8" | 24 - 44 # | 450 | 65,000 |
| 9-5/8" | 36 - 59.4 # | 450 | 65,000 |
| 9-7/8" | 62.8 # | 450 | 65,000 |
| 10-3/4" | 40.5 - 60.7 # | 450 | 65,000 |
| 10-3/4" | 65.7 - 85.3 # | 450 | 65,000 |
| 11-3/4" | 47 - 71 # | 450 | 65,000 |
| 13-3/8" | 54.4 - 85 # | 450 | 65,000 |
| 13-3/8" | 61 - 92 # | 450 | 65,000 |
| 13-5/8" | 88.2 # | 450 | 65,000 |
| 16" | 65 - 109 # | 450 | 65,000 |
| 16-3/4" | 65 - 109 # | 450 | 65,000 |
| 18-5/8" | 87.5 - 117 # | 450 | 65,000 |
| 20" | 94 - 133 # | 450 | 65,000 |
| 22" | 170 - 224 # | 450 | 50,000 |
| 24" | 171 - 216 # | 450 | 50,000 |
Generated by wpDataTables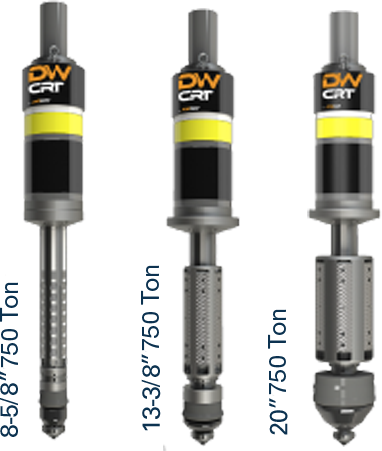 DWCRT 750T TOOL
| CASING | WEIGHT RANGE | TONS | FT-LBS |
| --- | --- | --- | --- |
| 7" | 17 - 35# | 400 | 50,000 |
| 7-5/8" | 24 - 42.8# | 400 | 50,000 |
| 8-5/8" | 24 - 44 # | 750 | 90,000 |
| 9-5/8" | 36 - 59.4 # | 750 | 90,000 |
| 9-7/8" | 62.8# | 750 | 90,000 |
| 10-3/4" | 40.5 - 60.7# | 750 | 90,000 |
| 10-3/4" | 65.7 - 85.3# | 750 | 90,000 |
| 11-3/4" | 47 - 71# | 750 | 90,000 |
| 11-3/4" | 71 - 87.2# | 750 | 90,000 |
| 12-3/4" | 44 - 77# | 750 | 90,000 |
| 13-3/8" | 54.4 - 85# | 750 | 90,000 |
| 13-5/8" | 88.2# | 750 | 90,000 |
| 16" | 65 - 109# | 750 | 90,000 |
| 16-3/4" | 65 - 109# | 750 | 90,000 |
| 18-5/8" | 87.5 - 136# | 750 | 90,000 |
| 20" | 94 - 133# | 750 | 90,000 |
| 20" | 163 - 187# | 750 | 90,000 |
| 22" | 170 - 224# | 750 | 60,000 |
| 24" | 171 - 216# | 750 | 60,000 |
| 26" | 202 - 275# | 750 | 60,000 |
| 30" | TBD | 750 | 60,000 |
Generated by wpDataTables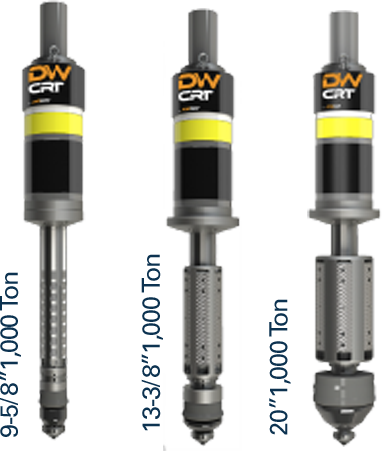 DWCRT 1000T TOOL
| CASING | WEIGHT RANGE | TONS | FT-LBS |
| --- | --- | --- | --- |
| 7" | 17 - 35 # | 400 | 60,000 |
| 7-5/8" | 34 - 55.3 # | 500 | 65,000 |
| 9-5/8" | 36 - 59.4 # | 1,000 | 75,000 |
| 9-7/8" | 62.8 # | 1,000 | 100,000 |
| 10-3/4" | 40.5 - 60.7 # | 1,000 | 100,000 |
| 11-3/4" | 47 - 71 # | 1,000 | 100,000 |
| 13-3/8" | 54.4 - 85 # | 1,000 | 100,000 |
| 13-5/8" | 88.2 # | 1,000 | 100,000 |
| 16" | 65 - 109 # | 1,000 | 100,000 |
| 16-3/4" | 65 - 109 # | 1,000 | 100,000 |
| 18-5/8" | 87.5 - 136 # | 1,000 | 100,000 |
| 20" | 163 - 187 # | 1,000 | 100,000 |
| 22" | 170 - 224 # | 1,000 | 100,000 |
| 24" | 171 - 216 # | 1,000 | 100,000 |
| 26" | 202 - 275 # | 1,000 | 100,000 |
Generated by wpDataTables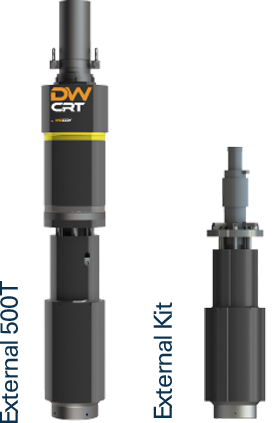 External DWCRT 500T
| Title | Spec |
| --- | --- |
| Tension Rating | 500 Ton |
| Torsional Rating | 50K ft-lbs to 65K ft-lbs |
| Max Coupling Length | 15.4" |
| Max Coupling OD | Casing Diameter + 1.5" |
| OAL Tool Length | 9.8' |
| Tool Weight | 3,300 lbs |
| Tool OD | 16" |
| Turns to Set | 2.5 |
| Flow Rate | 12 bbl/min, Max Pressure: 10,000 PSI |
Generated by wpDataTables
Modular Design of the DWCRT
The ability to handle a wide range of mandrels (4.5" to 26") with just one tool has several benefits:
A larger range of casing sizes can be accommodated
Significant inventory and spare parts cost are reduced
Minimal cost for additional sizes added to a fleet
Flexibility on inventory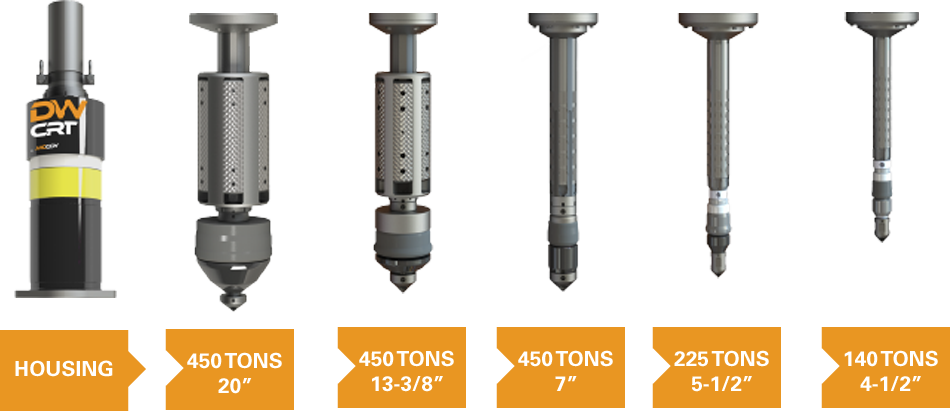 Elements of the DWCRT Modular Design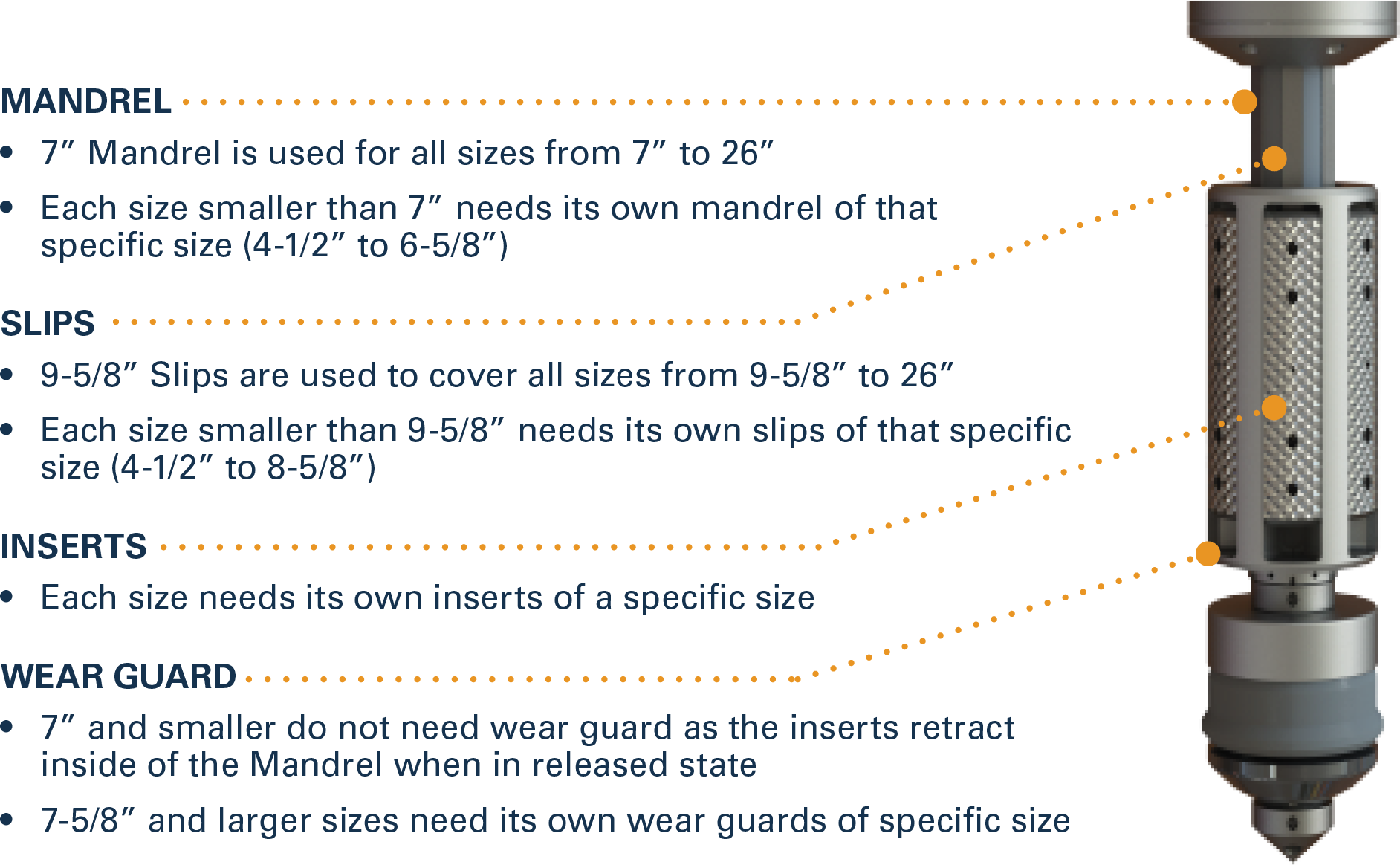 | Tubular Size | Mandrel | Slips | Inserts | Wear Guard |
| --- | --- | --- | --- | --- |
| 4-1/2" | 4-1/2" | 4-1/2" | 4-1/2" | None |
| 5" | 5" | 5" | 5" | None |
| 5-1/2" | 5-1/2" | 5-1/2" | 5-1/2" | None |
| 6" | 6" | 6" | 6" | None |
| 6-5/8" | 6-5/8" | 6-5/8" | 6-5/8" | None |
| 7" | 7" | 7" | 7" | None |
| 7-5/8" | 7" | 7-5/8" | 7-5/8" | 7-5/8" IT |
| 8-5/8" | 7" | 8-5/8" | 8-5/8" | 8-5/8" IT |
| 9-5/8" | 7" | 9-5/8" BS | 9-5/8" BOI | 9-5/8" IT |
| 9-7/8" | 7" | 9-5/8" BS | 9-7/8" BOI | 9-7/8" IT |
| 10-3/4" | 7" | 9-5/8" BS | 10-3/4" BOI | 10-3/4" TT |
| 11-3/4" | 7" | 9-5/8" BS | 11-3/4" BOI | 11-3/4" TT |
| 13-3/8" | 7" | 9-5/8" BS | 13-3/8" BOI | 13-3/8" TT |
| 13-5/8" | 7" | 9-5/8" BS | 13-5/8" BOI | 13-5/8" TT |
| 16" | 7" | 9-5/8" BS | 16" BOI | 16" TT |
| 16-3/4" | 7" | 9-5/8" BS | 16-3/4" BOI | 16-3/4" TT |
| 18-5/8" | 7" | 9-5/8" BS | 18-5/8" BOI | 18-5/8" TT |
| 20" | 7" | 9-5/8" BS | 20" BOI | 20" TT |
| 24" | 7" | 9-5/8" BS | 24" BOI | 24" TT |
| 26" | 7" | 9-5/8" BS | 26" BOI | 26" TT |
Generated by wpDataTables