Portable Aircraft Digital Scale System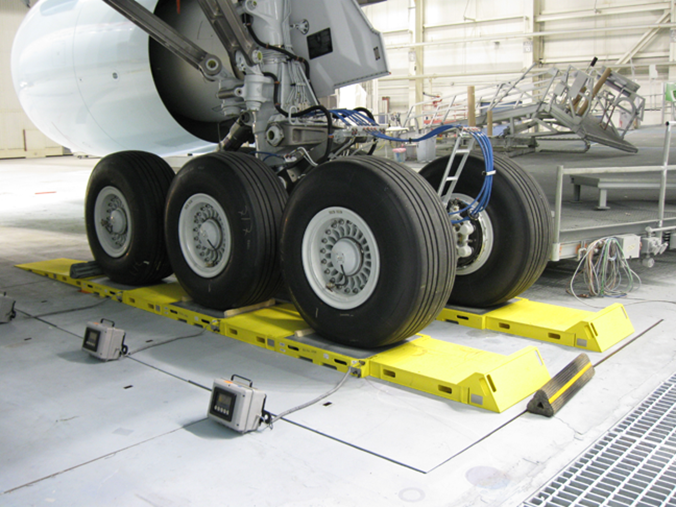 Portable Aircraft Digital Scale System (PADS) System
The McCoy Global Portable Aircraft Digital Scale System (PADS) System delivers both accuracy and reliability and nothing is more important when weighing and balancing an airliner. Its accuracy, reliability, ease-of-use and maintainability has led major aircraft manufacturers to choose PADS as the exclusive system for aircraft weight and balance. PADS can be used for all aircraft and for other high accuracy weighing applications. Both the scale and display are ruggedized against physical abuse, shock and vibration, and are certified for use in Hazardous areas. Because its electronics assemblies are environmentally sealed and its stainless steel sensors are seal welded, the scale can be reliably set down into floor recesses.
Advanced
PADS are more advanced than other aircraft digital scales in terms of accuracy, dependability, ease-of-use, and maintainability. McCoy Global specializes in the design and manufacture of ruggedized weighing sensors and systems, which must withstand physical abuse, shock, and vibration over many years of operation.
Experienced
Built to satisfy the most demanding requirements and incorporating the McCoy Global experience in design of rugged instrumental on for aircraft and missile weighing. PADS makes available to the airline and aerospace industries a higher level of cost effective performance.
BENEFITS
Programmable averaging and motion detection

Flexible battery saving configurations

Sealed environmental protection

No measurement errors due to side-loads or non-level (up to 1 degree) platforms and no damage up to 10 degrees

Comprehensive Self-Diagnostics

Corrects for variations in the local gravitational constant

Minimum 1 00 hour battery life typical

Push-button Tare

11b. or 1 kg. Resolution

Ball and knife-edge load cell mounting

Four each double-ended shear beam standard load cells

Recessed hand-holds for easy handling by two people

Independent mounted feet for use on uneven surfaces

Specially designed high strength weigh bridge without welds
SPECIFICATIONS
Power: Internal standard batteries
Accuracy: Total error +/- 1% of reading or 10 lbs for 60K-PAD or 6 lbs for 25K-PAD, whichever is greater. This includes the combined effects of linearity, repeatability, creep (4 hrs), and platform loading errors.
Capacity
25,000 lbs
60,000 lbs
Proof Load
37,500 lbs
90,000 lbs
Size
28 X 28 X 4
32 X 29 X 4
Weighing Platform
24 X 21
29 X 26
Tire Loading Area
22 X 19
22 X 27
Maximum Tire Loading
450 psi
450 psi
Maximum Floor Loading
200 psi
200 psi
Operating Temperature
30 - 130 F
30 - 130 F
Storage Temperature
0 - 150 F
0 - 150 F
Resolution
1 lb max
1 lb max