smartFMS™ Flush Mounted Spider

McCoy's smartFMS™ is a rotary equipment developed to handle casing using replaceable die carriers and provides back-up torque of up to 50,000 ft.lbs. from first pipe joint, hence removing the need for integrated backups and manual tongs. This is a fully connected device that in real-time provides information on the state of the tool to the driller's display (also used with a smartCRT™). Both tools are constantly monitored, providing enhanced safety and reassurance that these are not open at the same time. smartFMS™ increases efficiency and safety by eliminating human error and guaranteeing consistency and repeatability of operations.
Fits inside of rotary with a relatively low profile
Reacts backup torque
Holds weight of casing string
Removes latching / unlatching of manual tongs & integrated backups (saves time)
Removes casing crew from the possible pinch points
Increases overall speed, efficiency and safety
Performance Specifications
Maximum Tension Rating – 350 tons
Designed to fit inside of a 27 ½" API Rotary Table
Total cylinder cycle time is 6 seconds
Tool Grip Range – Casing sizes 13 5/8" – 2 3/8"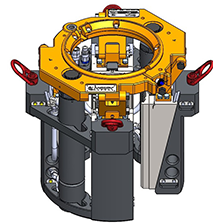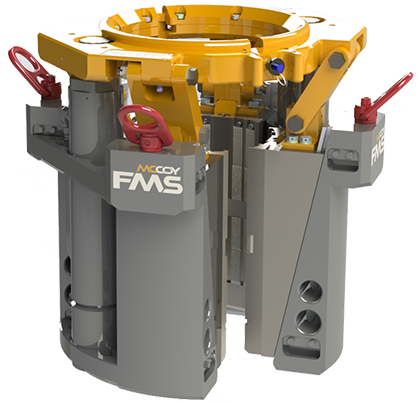 FLUSH MOUNT SPIDER SPECIFICATIONS

MAXIMUM TENSION RATING

350 TONS

317 TONNES

MAXIMUM WORKING PRESSURE

2000 PSI

138 BAR

FLOW RATE REQUIRED

34 GPM

128 LPM

MASS (TOOL ONLY)

2900 LBS

1315 KG

MASS RANGE (CARRIERS AND GUIDE PLATES INCLUDED)

3050 - 3700 LBS

1383 - 1678 KG

TIME TO EXTEND AND RETRACT

6 SECONDS

COMPATIBLE ROTARY TABLE

27 1/2", 37 1/2*

CASING SIZE RANGE

13.625"

2.375"
* With addition of the Adapter Ring, same FMS can be used with any other most common 37 1/2" Rotaries: NATIONAL or EMSCO configuration

*MAXIMUM TORQUE AT 2000 PSI WORKING PRESSURE ON A SINGLE JOINT

PIPE SIZE (IN)

TORQUE (FT-LB)

13.625 - 7.625

50000

7.563 - 7.000

38000

6.938 - 5.500

30000

5.438 - 4.500

22000

4.438 - 3.500

14000

3.438 - 2.375

3000
* Torque values are determined by slip upon the pipe and not the limitations of the tool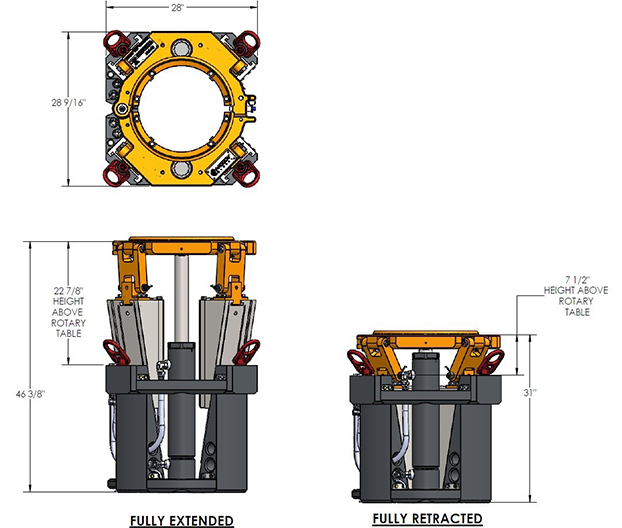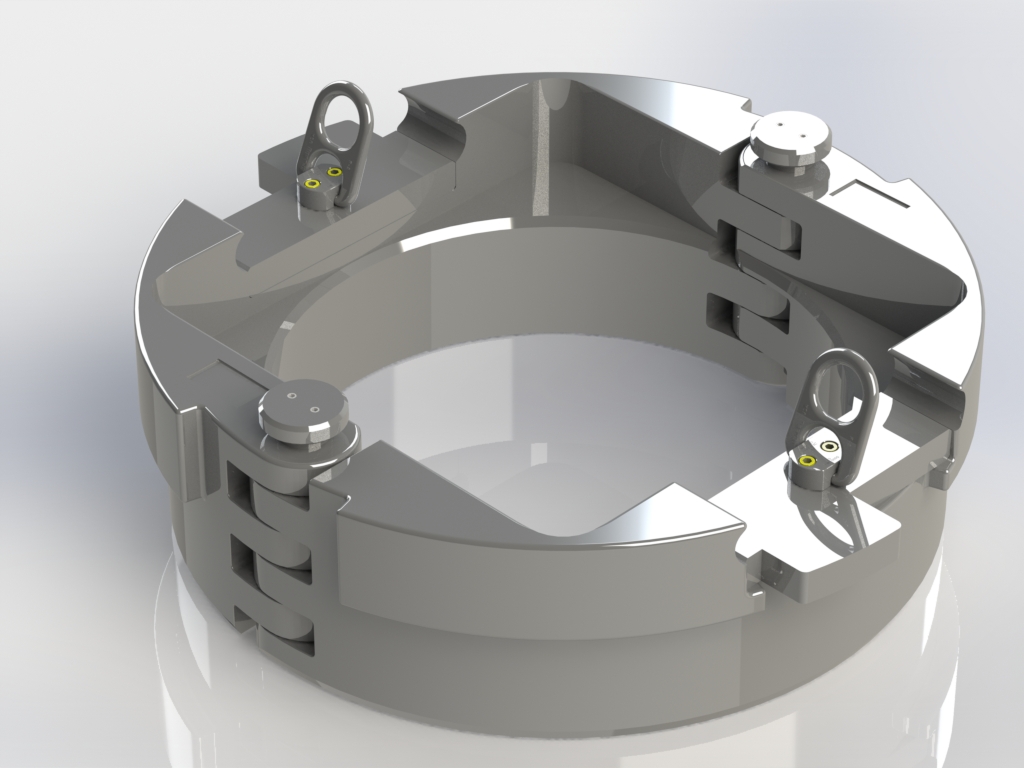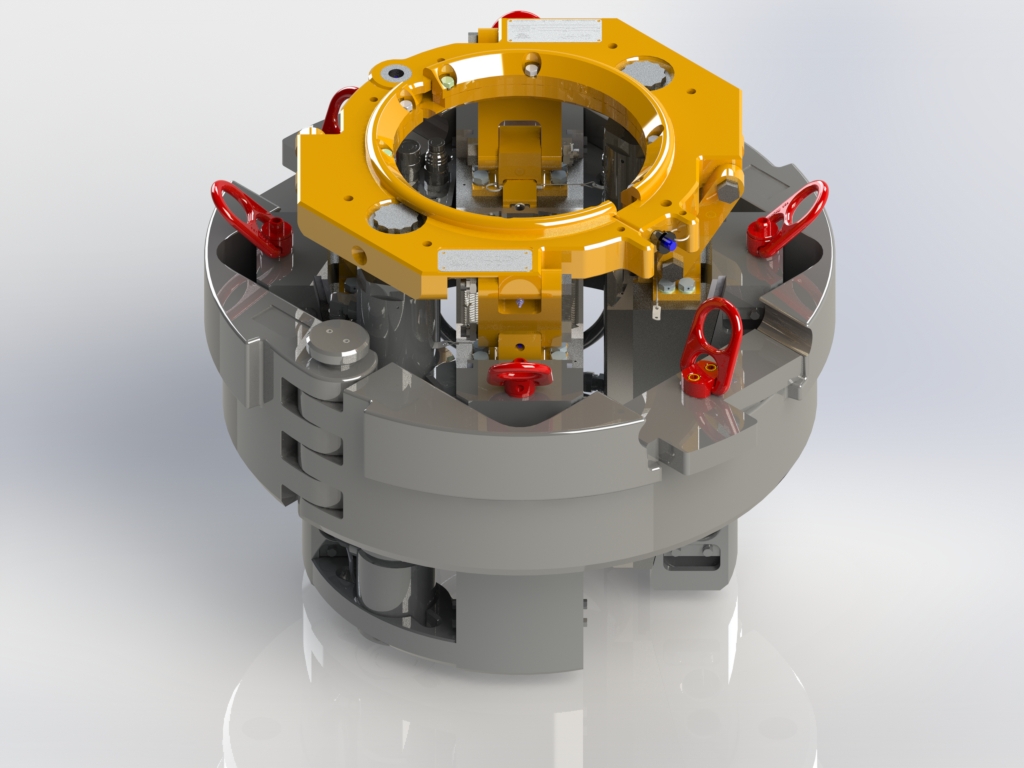 * With addition of the Adapter Ring, same McCoy FMS can be used with any of the most common 37 1/2" Rotaries: NATIONAL or EMSCO configuration
Interchangeable Parts
Insert Carriers

Multiple sizes of insert carriers to cover the full range of gripping
Carrier utilize a combination of tong dies and handling tool dies that need to be changed out to grip different sizes without needing to open the FMS
Carriers are easily interchangeable, utilizing a spring latch to hold the carriers secure
Due to geometry, the tension rating for carriers decreases for the smaller pipe sizes

Wear Guides

Need to be changed for individual sizes of casing in order to help ensure a good bite
Sized to allow common centralizer sizes through without need to remove them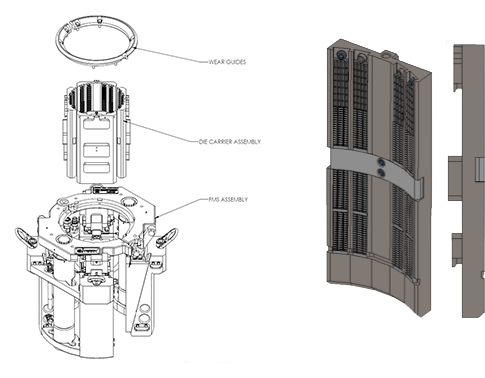 13 5/8 – 13 3/8 Carrier Shown Above

TENSION RATING FOR CARRIERS

PIPE SIZE (IN)

MAX TENSION IN TONS (TONNES)

13.625 - 6.000

350 (317)

5.500 - 4.500

240 (218)

3.500 - 2.375

100 (91)
FMS Sensor Package
Includes two linear sensors inside of cylinders
Includes two pressure transducers included inside of control console (sold separately)
Both sensors work with McCoy's Edge Server

Linear Sensors determine if the casing is appropriately gripped before releasing the slips
Pressure transducer determines if adequate pressure is being supplied