we

VERIFY II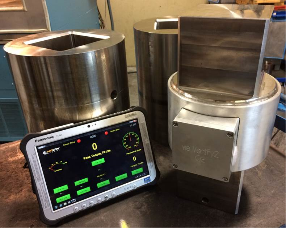 From the global market leader in well construction equipment for ensuring connection integrity McCoy Global's weVERIFY II torque calibration bar and display is the solution for calibrating Bucking Units in non-hazardous environments.
Designed to view and log torque data, the weVERIFY II provides wireless wifi communication via a McCoy developed Windows app that users can install on desktops, laptops or tablets that operate with MS-Windows.
This latest version provides improved accuracy through its separating grip adapters from the sensors, removing the effects of irrelevant forces being applied to the sensors, and only transmitting torque forces.  In addition, the gauging selection and application increases accuracy by now including eight discreet strain gauges placed at 45° and cross-wired to one another which reduces the effects of radial and bending forces impacting the torque reading.
Benefits
Separate grip adapters mate with the square drive to minimize unwanted forces into the weVERIFY II sensor (unwanted forces can create measurement errors)
Gauging selection and application reduces the effects of radial and bending forces impacting the torque reading
Lighter weight by constructing the Sensor through a combination of high strength stainless steel and aluminum
Battery power with off-the-shelf Alkaline AA cells including an on/off switch to aid battery life
Wireless wifi communication via a McCoy developed PC app that users can install on PC computers and laptops to view and log torque data