Winch Monitoring
System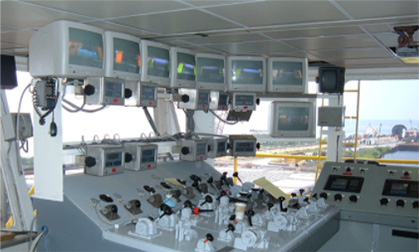 McCoy Global Winch Control Systems will keep your equipment productive whether it's shipboard, dockside, underwater or airborne. Our systems are designed for any environment and feature MIL-STD shock for heavy duty use.
Wire and Chain shipboard systems.
Large and small sensor suites involving strain, bending, shear, weight, tension, position, angle, stroke, length, torque, pressure, speed and acceleration.
Applications include underwater launch and recovery operations, crane-mounted winches, towed body winches, rocket towing winches, crash recovery vehicles, minesweepers, trolley-mounted winches, ROV winches and tether management systems, and seismic mapping systems.
Specifications
Shock and Vibration resistant for shipboard equipment
EMI/RFI tested to 200 volts per meter
Operating temperatures -40 to +85C
High speed wireless, hardwired or combined communications
High pressure hydraulic systems are available when no electric power is available
Internal data logging inside sensor or display
External data logging on PC or other hardware platform
Any capacity up to 6 million pounds calibrated at McCoy Global
Sensor body can be any size or shape
Customer onsite surveys and service
Applications
Combination wire and chain shipboard systems

Large and small sensor suites involving strain, bending, shear, weight, tension, position, angle, stroke, length, torque, pressure, speed and acceleration

Underwater launch and recovery operations

Crane-mounted winches and trolley-mounted winches

Towed body and Rocket towing winches

Crash recovery vehicles

Minesweepers and towed array winches

ROV Winches and tether management systems

A-Frames, J-Frames, hydrobooms and davits

A&R Winches & J-Lay tower winches

Power utility truck winches and dredge ladder hoist winches

Oceanographic and hydrographic winches

Seismic paravanes, seismic steamers, gun array winches