TTS Data Sub with MTT™
Torque Turn Software

FOR CASING RUNNING TOOLS (CRTS)
Leading-Edge Solutions for Optimal Performance
McCoy Global is transforming the industry with innovative technology solutions that enable our customers' success, delivering optimal operational efficiency and performance, while keeping people, assets and the environment safe.
Innovation
Innovative system and software from a technology leader.
Expertise
20+ years of experience with thousands of torque monitoring systems in the field supporting customers' needs.
Versatility
MTT™ system is adaptable for any tong, data sub, bucking unit or calibration bar application.
Applications
Displays and records torque, tension, turns and RPM from the Top Drive and Casing Running Tool (CRT)
Monitors, controls and analyzes tubular connections make-up to ensure that all tubing and casing connections conform to manufacturer specifications
The system uses MTT™ Torque Turn software that interacts with a TTS data sub that provides real-time, wireless data transmission used in the monitoring, evaluation and data logging of tubular connection make-up. Standard software features provide torque/turn graphs, generate customized reports and offer the ability to review results from previous make-ups for further analysis and information.
TTS Data Sub System Components
MTT System hardware comes standard with: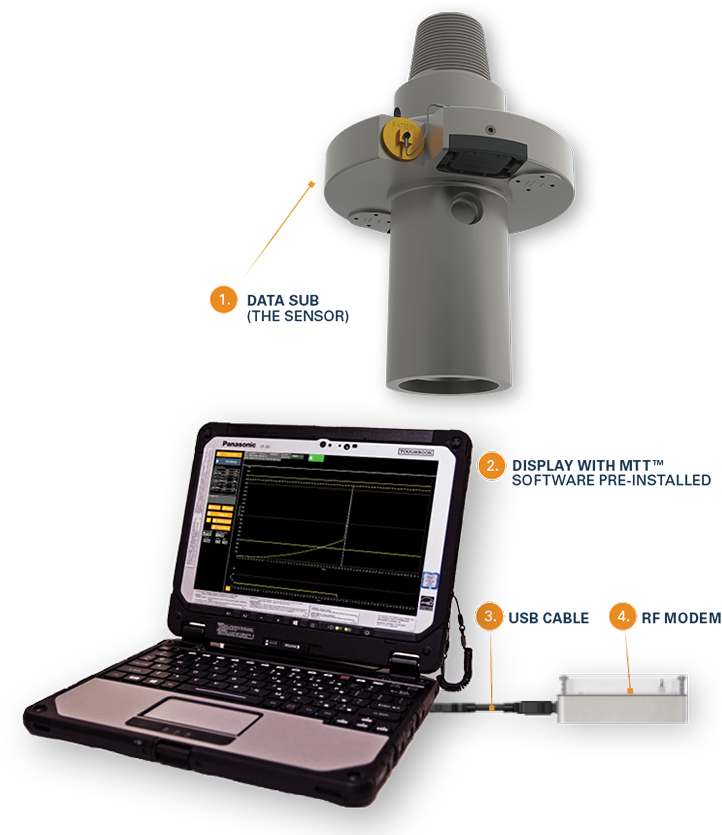 TTS08 SPECIFICATIONS

Size

4-1/2" IF NC50 | 6-5/8" REG | 6-5/8" REG

Thread Orientation

Pin Up / Box Down or Box up / Pin Down

Torque

40K ft.-lbs  | 50K ft.-lbs | 85K ft.-lbs

Hook load

350T / 500T / 690T

Torque/Tension Accuracy

+_1%of Full Scale

Turns Resolution

1,000 Samples Per Revolution

Temperature Range

-40°C to 65°C (149°F)

Battery Life

480 hours at 25°C (77°F)
(Approx. 20% lower at 0°C - 32°F)

Wireless Transmission

2.4 GHz, Direct Sequence Spread Spectrum
Line of Sight Range 150 ft. Typical Use

Enclosure Rating

Type 4X, Watertight

Hazardous Area
Classification

North America: Class 1, Division 1, Groups C & D, T4 ATEX: Zone 1, IIB, T4 Classification

Design

Designed to API 8C

Weight (Approx.)

184 lbs | 238 lbs | 238 lbs

Length

Connection size and length manufactured to specifications
Features and Benefits

VTR Compatible
MTT software can support Virtual Thread Rep™ technology.
Technical Support
24/7 Technical Support is available as well as on site support.
Software Updates
Free MTT Software updates are available on the VTR portal or by contacting McCoy Service Department.
Hardware Features and Benefits
Higher Accuracy – Measured Torque vs. Derived Torque
The TTS08 works with all Top Drives and Casing Running Tools
No Cable Runs or Encoder Rig-up – Reducing flat time between drilling and casing running
Wireless Telemetry from data sub to receiver
Two communication channels (one is spare)
Reduced rig-up time – Sub and laptop/tablet with USB receiver are all that is required
The TTS08 has battery life capabilities for even the longest job (480 hours of continuous use)
Battery carriers make it easy to source batteries locally
Batteries are rechargeable
The TTS08 data sub is fully ATEX and C1D2 compliant
Display compatibility varies based on the type of display chosen
Software Features and Benefits
Standard
Integrated measurements of torque, tension, turns and RPM
Easy graphical report creation and "one step" PDF
Reporting system with customizable logo
Automatic descriptive comments with user override
Multiple joints review, graphic overlay
Graph zooms to maximize size to computer screen
Connection library – User customizable
Automatic "Start Recording"
Adjustable color scheme
User Mode – Administration and User Level 1 & 2 Access
Optional
Specialized
Customizable components available on request
Accept or reject connection on delta turn / shoulder slope
RPM Graph can be added to make-up screen
Control speed during make-up
Custom zoom feature
Pressure test system
Multiple language capabilities
Display Options and Specifications
Toughbook
Innovative system and software specifically designed for use with data subs and Casing Running Tools (CRTs).
Works with tools from other manufacturers.

Screen Size: 10.1"
Intel Core i5 processor
RAM: 8GB
Hard Drive: 256GB
Native Resolution: 1920 x 1200
Monitor Features: Glove touch
Webcam Capability
Resolution (MP): 8 Megapixel (rear)
Resolution: 1080p (front)
Sunlight readable, Anti-glare, Anti-reflective
WIFI
Windows 10
4 USB ports
Run Time, up to 8 hours on batteries with power supply built into the system
Battery Packs are designed to be hot swapped so you have no downtime even when not docked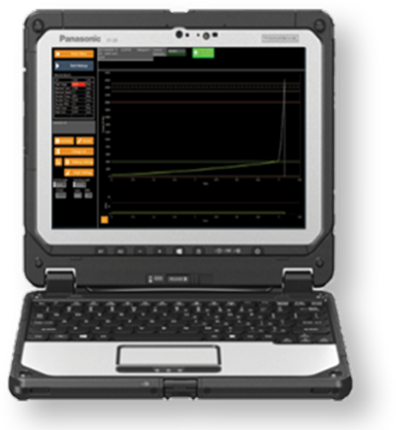 Tablet
ATEX certified when used with a tong and is non-ATEX when used with TTS sub, because of the RF modem (non-ATEX) that needs to be plugged in.
Highly flexible industrial tablet PC with powerful Quad-Core processor for rough and hazardous environments
Ergonomic positioned high quality 1D/2D imager SE4500 from Zebra and RFID reader HF/NFC
Brilliant, high-resolution, bonded 10.1" touch LED display, sunlight readable, rain useable
High quality 5 MP camera
Integrated Bluetooth 4.1 LE, WLAN and optional LTE module
Unique expansion port for customer specific applications
Great number of accessories supporting productivity and operator safety
Industry Tablet PC 10.1" for Zone 0 or Zone 1 / Div. 1
Comes with a docking station and 2 spare batteries
-20°C +50°C (-4°F +122°F) degree temperature range
1 USB port
1 Micro SD card that can be used as a backup
Audio and microphone built-in
Windows 10
Screen Resolution 1920 x1200 with brightness of 700 nits
Run Time, up to 8 hours on batteries with power supply built into the system
Battery Packs are designed to be hot swapped so you have no downtime even when not docked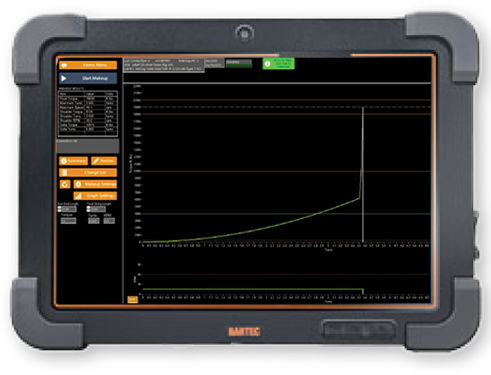 SmartEX Zone 1 ATEX Computer
ATEX certified when used with both, TTS sub and a tong, because it does not require an external modem.
Industrial designed 12-inch LCD display
Projected Capacitive Technology (PCT)
Multi Touch, Glove Friendly
Integrated RF Modem for direct communication to the TTS
External USB type 2.0 port via ROTA DR4 connector
Windows 10
Operating Temp: -40°C to +60°C (-40°F to +140°F)
Storage Temp: -40°C to +80°C (-40°F to +176°F)
Screen Resolution: XGA 1024x768
Weight < 33 lbs